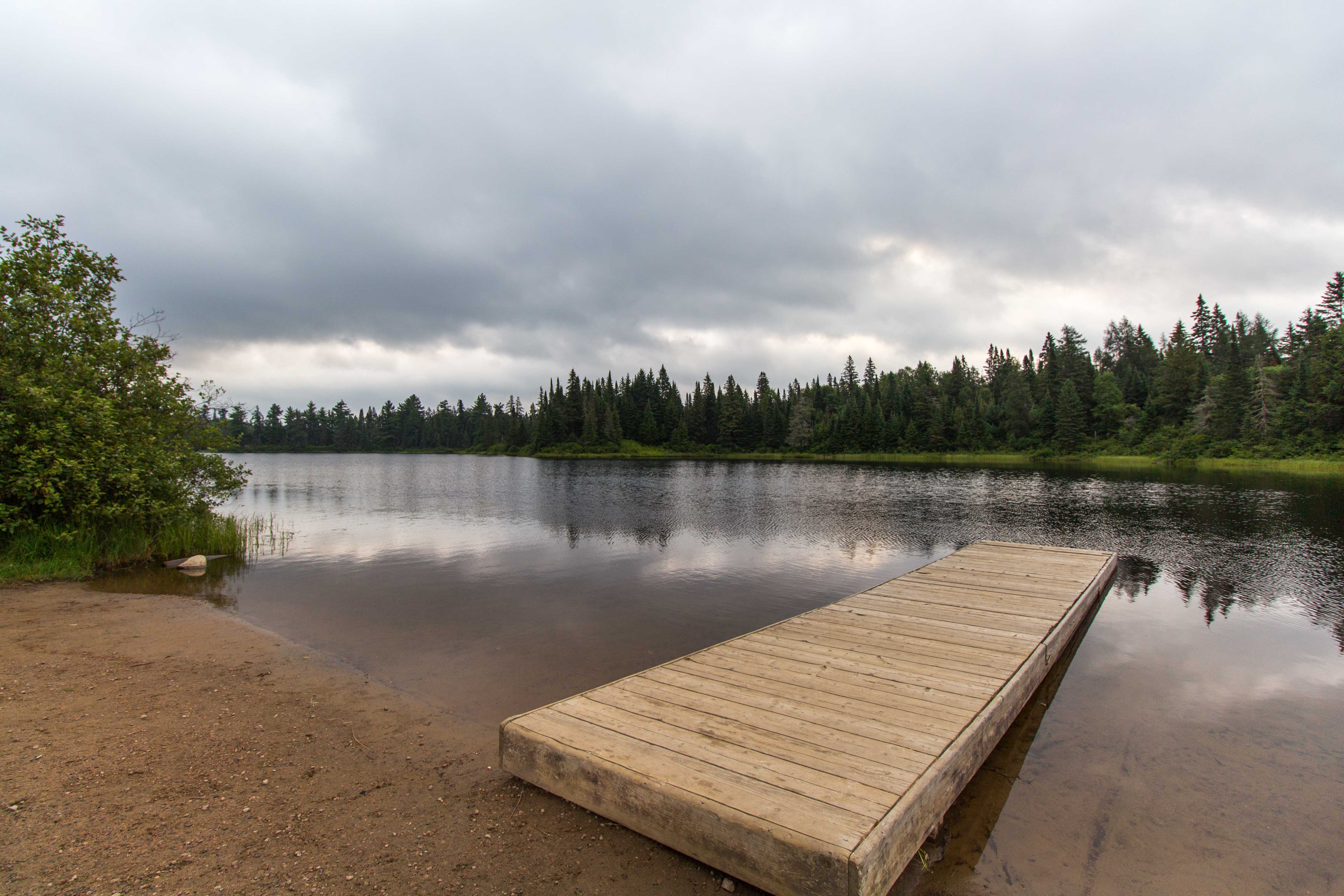 Visted: Aug 4th, 2017
Posted: April 10, 2020
Day 1 - Rain Lake - Little McCraney Lake - McCraney Lake
There was eight of us going into Algonquin Park for the Civic Long weekend in August. Three canoes and two kayaks. We started at Rain Lake Access Point 4, which is located at longitude/latitude of 45.603500°, -78.952518°. This was my first time entering the park on this side. This year we rented our canoes/kayaks from Algonquin Basecamp, which is located across the road from the Kearney Community Center, which is where you pick up your camping permits.
After dealing with all of that, you keep going down that road and take left onto Rain Lake Rd. From there you keep on that road, which eventually turns into a dirt road. This road is use for logging in and around Algonquin Park, so please drive at a safe speed and stay aware. The dirt road is relativity wide but with one or two large vehicles, one may have to go far to the side and let the other pass. After around half hour of dirt road you should arrive at the beautiful Rain Lake.
We got the canoes in the water, the gear in the canoes and the cars parked. In no time, we were off onto Rain Lake and heading to the 1810m portage down to Little Lake McCraney. The weather was mild and cloudy, with the expectation of a lot of rain later in the day. It took us around 45min of canoeing to get to the portage. For those who do not know, there will be a bright yellow sign with a picture of person carrying a canoe, with the name of the two lakes.
This portage is the first one on the right side of Rain Lake. The entrance to the portage is not that big, we had to take turns unloading our canoes and up the small hill to the beginning of the portage. Shortly down the path, you will meet the backpacking trail going West/East; you want to go South. There is a sign on a tree pointing right for Little McCraney Lake, follow the sign. There will be water on your right for the first bit of the portage, if you see it on your left you are going the wrong way.
" About half way canoeing down the lake you will run into a beaver dam that you will have to portage "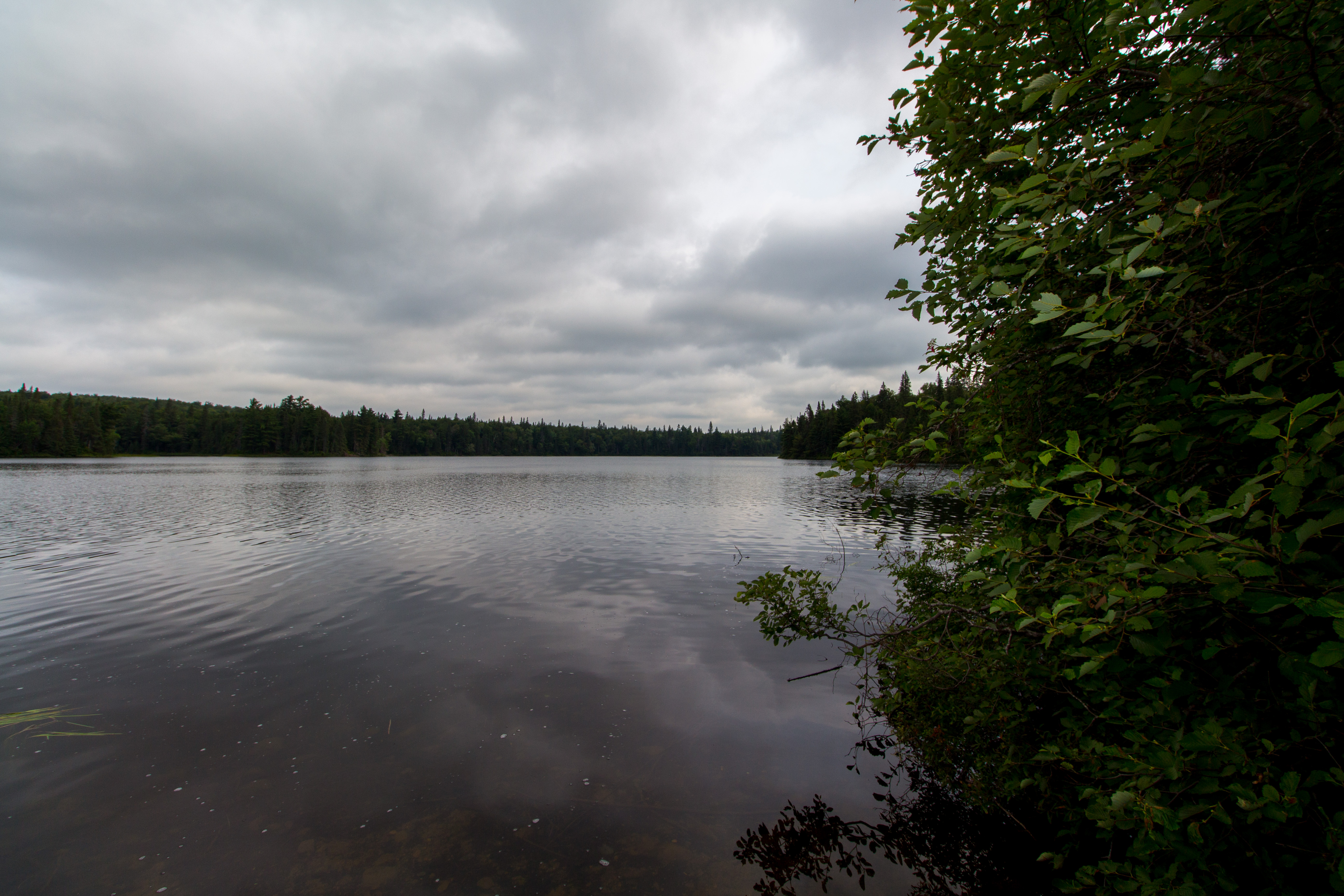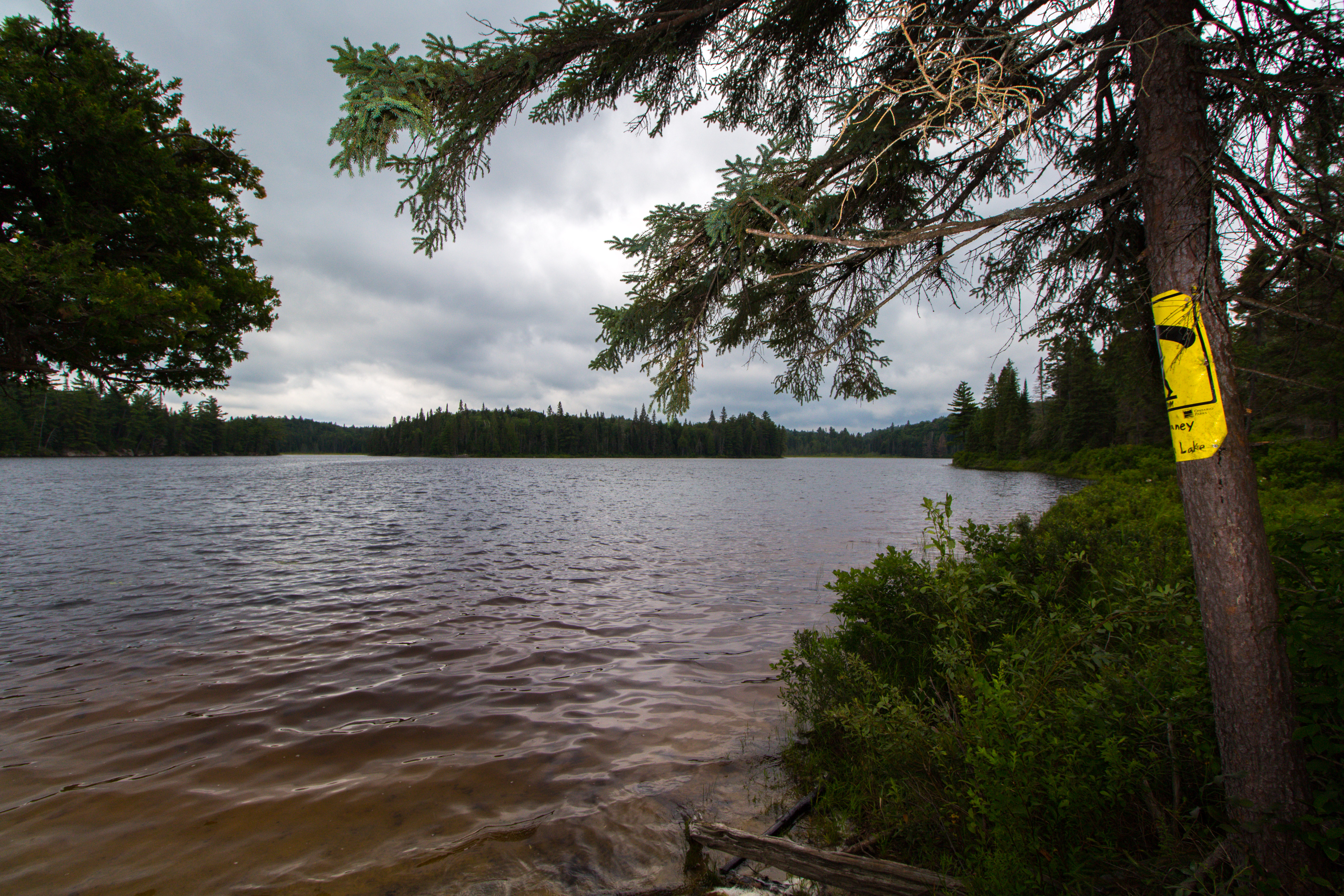 The portage overall is flat and wide, however there was numerous big patches of mud/water, this year has been a wet one which does not help with it. I unfoundedly did not tie my shoes tight, and ended up stepping into mud, it got stuck and I lost my shoe in the mud. With stopping and take a break, a few times we made it to the end of the portage in around an hour. Once you get near the end there is another fork in the path, go right and it will be closer/much better take off point into Little McCraney Lake. Otherwise, you can go straight for a bit longer and still get to a point to enter the lake.
Once we got to the end, we released that none of us saw or heard two of my friends on any of our breaks. We waited a bit, in which two of my friends decided to start to walk back to see where they are. After about hour and half of waiting at the portage all four of them returned. They ended up going left onto the backpacking trail at the beginning of the portage before releasing that they went the wrong way. After they had a break, we took turns loading our canoes and soon we were canoeing down Little McCraney Lake.
Little McCraney Lake starts with an open size body of water and turns into a small path down to McCraney Lake. About half way canoeing down the lake you will run into a beaver dam that you will have to portage. Most of us went to the right side, got out of the canoes, and lifted them over it. While at the beaver dam portage two of my friends said that they saw moose farther down. I was unfortunate and had a bag angle that did not allow me to see the moose. Around 15min of canoeing past the dam we got into McCraney Lake.
There is nine campsite on this lake, when you book it only says eight, but I have heard that they keep one on each lake in case of a ranger needs to stay there. If you look on the Algonquin Park Canoe Routes there is ten campsites, which is wrong, you will find out which one is not a campsite soon. At this point, the clouds have gotten a little darker, and we did have a few sprinkles of rain while canoeing down Little McCraney Lake. The waves were going against us and got decently high. If you look at the picture below of Jeff's Map, I have edited to add a colour coded for the campsites for references.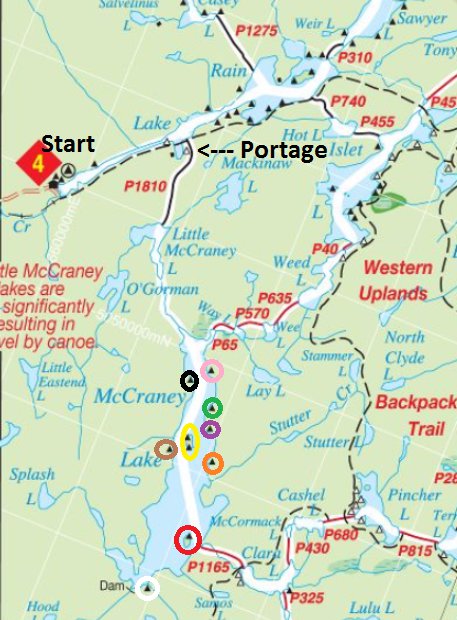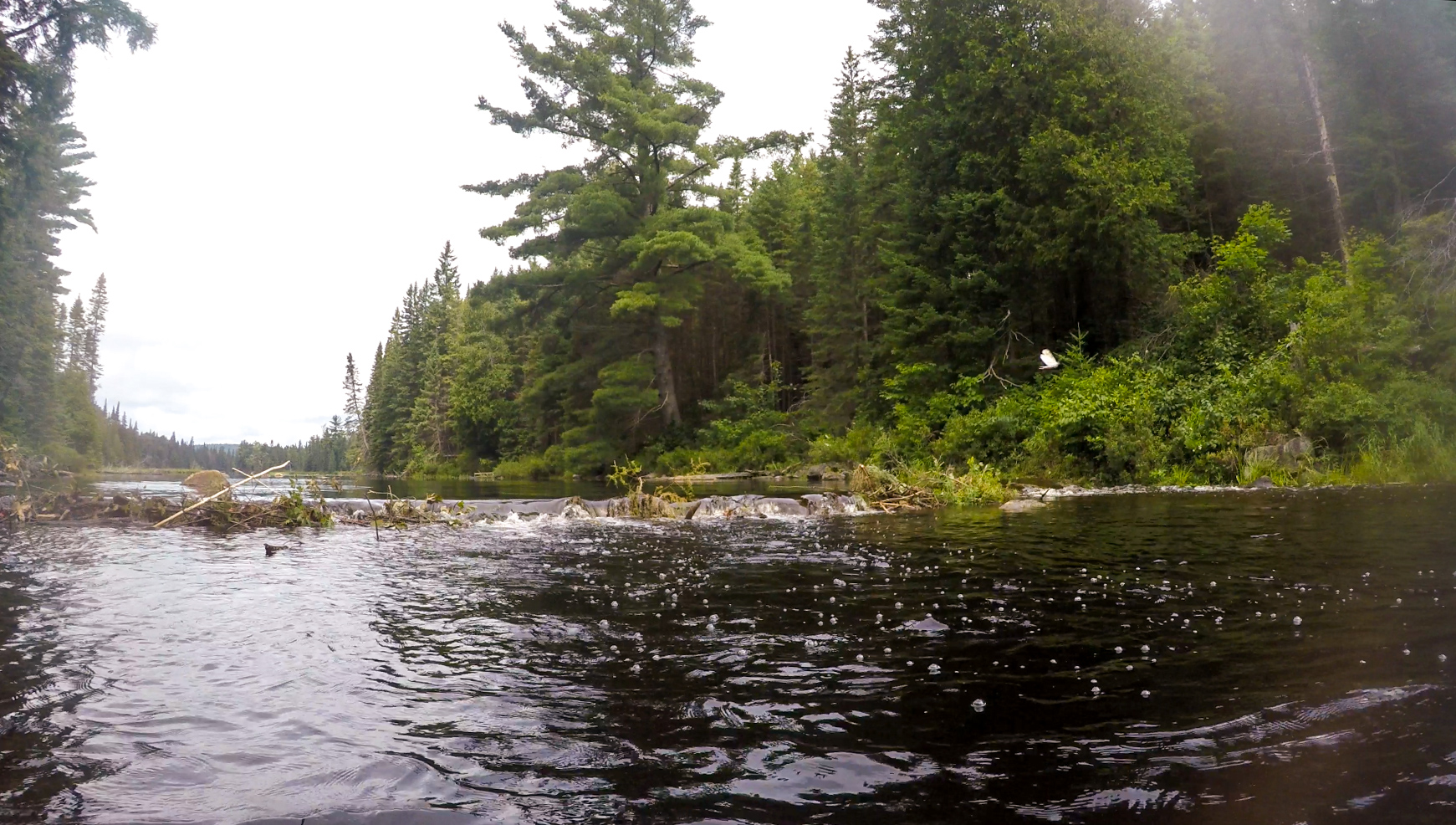 " After a few minutes of canoeing down the weather really turned and it started to pour with the waves almost coming into our canoes. "
Has a group we decided to aim for the Orange one, where it is locate right by Stutter Lake, which looks like it would be a nice place to escape the big lake and the other campers. However canoeing down it started to rain more and the waves getting bigger and more frequent, at this point we were by purple and decided to check it out. There was a nice amount of area by big relatively flat rocks to pull up and get out of the canoe. The fire pit was nice and did have a nice few out onto the lake. However after a quick walk around the site did seem on the smaller side and did not have room for a few tents and hammocks. We quickly decided to keep going down to Orange.
After a few minutes of canoeing down the weather really turned and it started to pour with the waves almost coming into our canoes. We tried to pick up the pace and keep our eyes out on the left for the Orange sign representing the campsite. By the time we reached Stutter Lake, we knew the hope for this campsite was gone. We all grouped up by the side of Stutter Lake to take a break and discuss which campsite to go for now. We pick the Red campsite, which is the small island near the end of the lake.
We finally made it down to the island to find the campsite on the right/east side of it. Another reference is that it is across the way from the portage to Clara Lake. There is a nice size sandy beach area where it was easy to fit our canoes and kayaks. By this time, everyone was soaked and cold, and we needed to start fire. We had to start a small fire in the big pot that we brought where everything was wet and it was still raining.
The weather finally stopped raining for a bit so we decided it was time to set up some tarps and try to move the fire from the pot into the fire pit. We managed to get a few tarps somewhat set up just for a massive storm to come through. In no time, most of us were under the tarp for it rip and it start to fly away. We grabbed the tarp and everyone got into a circle to hold the tarp down. My one friend and myself were on the side of the wind was blowing and it was so strong that it took our entire body weight to hold it down. Not sure how long the massive storm lasted, but it felt like around 15 minutes.
After waiting a little longer in hopes for the rain to settle we decided it was time to make a better shelter out of the tarps near the fire pit. We got two large tarps set up quickly where we could store all of our gears and set up our chairs. We got the fire going and everyone took a well deserve break in a warm dry shelter. The rain kept coming and going. When it stopped, we collected wood and set up our tents and hammocks. In no time, night was upon us and we finally started cooking our food. For the most part, we all ate than went to bed in hopes for a better day tomorrow.